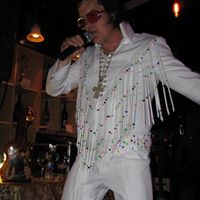 Central Texas Elvis Tribute Artist, Bill Harris aka Mr. Thrill pays tribute to the King PLUS!!!!
"SPECIALIZES IN HAVING FUN, ENTERTAINING, UNIQUE, KNOWS HOW TO READ AND WORK A CROWD!" If you want an Elvis that can really sing and hit the high notes with the same bravado that Elvis did, then get Mr. Thrill. Listen to audio samples and videos or come out to see Mr. Thrill at one of his public events in Central Texas!"
Mr. Thrill as Elvis returns to Chuy's Elvis Birthday Bash every year since 2017 claiming title as Round Rock's Favorite Elvis and arguably one of the best Elvis Impersonators in Texas!"
Mr. Thrill entertains at luxury retirement homes, elite Country Clubs, bars, corporate parties, private parties, weddings, and more.
"Why should you book Mr. Thrill as your Elvis Impersonator over any of the dozens of Elvis Tribute Artists that you can find on the internet? Why do fans love Mr. Thrill as Elvis?"
"Vocals! Personality! Fun! Fabulous!"
Booking based upon availability!